Disney has quietly announced that "Shake it up" will only consist of 3 seasons ending Shake it up with a total of 78 episodes.This is a huge disappointment to the loyal fans of the show when Shake it up was a popular hit Disney Channel show that attracted a numerous amount of viewers when it aired but the fans are not giving up.Fans have been organizing projects to Save Shake it up and are focusing to trend this worldwide on twitter,facebook,pinterest,and on to Disney to renew shake it up and so far is getting huge support from the fans and Bella Thorne.Fan Involvement has been huge in this project.If you want Shake it up to have a 4th season,Check out these websites below.
Links of Projects
Edit
Disney Dreaming Save Shake it up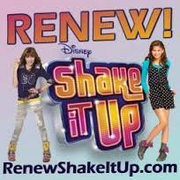 Disney Channel Fans Renew Shake it up
Ad blocker interference detected!
Wikia is a free-to-use site that makes money from advertising. We have a modified experience for viewers using ad blockers

Wikia is not accessible if you've made further modifications. Remove the custom ad blocker rule(s) and the page will load as expected.