.
Camp it up
Season 2, Episode 30

Vital statistics

Air date
November 27th 2011
Written by
Eileen Conn
Directed by
Joel Zwick

Episode guide

Previous
Next
Auction it up
Jingle it up
Rocky and Cece host a Kids dance camp to raise money to go to this weekly dance camp they want to attend but Larry Diller decides to join to take the "Funk" out of his dancing so for his son's bar mitzvah. Meanwhile, Ty and Tinka have a table tennis game after Ty beats Gunther.
Tynka Moments
Edit
Ty didn't want to "Zing-Pong" Tinka because he cared.
Ty and Tinka spent time playing table tennis together.
Main Charcters
Edit
Zendaya Coleman as Rocky Blue
Bella Thorne as Cece Jones
Caroline Sunshine as Tinka Hessenheffer
Kenton Duty as Gunther Hessenheffer
Roshon Fegan as Ty Blue 
Davis Cleveland as Flynn Jones
Absent Charcters (Main or Recurring)             
Edit
Adam Irigoyen as Deuce Martinez
Guest Stars
Edit
Larry Miller as Larry Diller
Ashley Boettcher as Suzy
AK Squared as featured Shake it up Chicago Dancers
Featured Songs
Edit
Bling,Bling 
Twist my hips
Make your Mark 
Shake it up Theme Song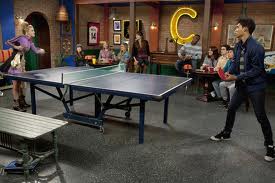 Ad blocker interference detected!
Wikia is a free-to-use site that makes money from advertising. We have a modified experience for viewers using ad blockers

Wikia is not accessible if you've made further modifications. Remove the custom ad blocker rule(s) and the page will load as expected.